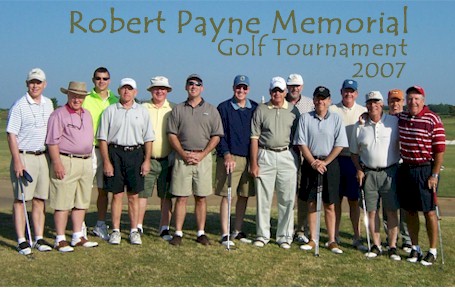 2007
Robert Payne
Memorial Golf Tournament
Capitol Hill
Prattville, Alabama
May 18-20, 2007
We had three perfect days of golf . . . sunny skies and 83 degrees. The courses at Montgomery were as enjoyable as they were in 2004. All players agreed that Capitol Hills needs to be a regular stop on our rotation.

Tournament Highlights
Rod McCasland, the Texan Tornado, returned to his championship ways after five years by shooting a +5 points for the tournament. Dr. Bill Connor, newcomer this year, came in second with +3 points. Dr. Dan Pate, former champion Chad Payne, and defending champion Ronnie Dempsey came in third with +1.

The Shamble Champions this year were Chad Payne, Bill Connor, Jim Harrington and David Bangs

Robin Gresham vowed never to play the Senator course every again . . . he won a dozen UGA golf balls for posting a -28 for the tournament. Better luck next year Robin.

We welcomed three newcomers to the tournament this year – Bill Connor, David Bangs, and Jeff Thompson. They were all great players and we welcome them back next year.

Special thanks to Lynn Whatley, Jim Harrington, and Dan Pate for their special financial contributions to the tournament.

Special thanks to Joel Todino for again being the tournament's number one headhunter . . . Joel, you might have a career in this.

Ronnie Dempsey receives the Anti-Social Award for speaking only three words during our dinner at the Jubilee Seafood Restaurant . . . probably because he was asleep in his chair after not sleeping the night before and playing 36 holes on golf.

The Capitol Hills Club was having a demo day on Saturday – Dan Pate was considering an $800 square headed driver. If he bought, you all will be paying $500 for your dog's next nail clip.

Thank goodness we had several physicians on hand because we had enough moaning and groaning about all the aches, pains, pulls, tears, coughing, sneezing, arthritis, busted knees, bowel issues, etc. Just ask Harrington about Robin Gresham's ailments.

Robert Payne Memorial Tournament
2007
INDIVIDUAL
PLAYERS
SCORE
Rod McCasland

+5

Dr. Bill Connor

+3

Chad Payne

+1

Dr. Dan Pate

+1

Ronnie Dempsey

+1

...

Robin Gresham

-28 (last position was awarded with a prize)
SHAMBLE
PLAYERS
SCORE
Dr, Bill Connor

111 (33 Under)

Chad Payne

Jim Harrington

David Bands