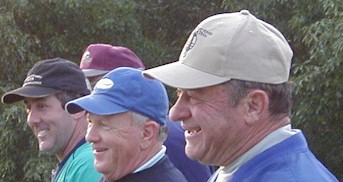 Come celebrate the 31st anniversary of the Robert Payne Memorial. Please join us for good times, golf, and memories May 18-20th at Ross Bridge in Hoover, AL.
The Friday afternoon and Saturday morning rounds will determine the individual champion. We'll be playing a Stableford format with handicaps which awards 1 point for bogie, 2 points par, 4 points for birdie, and 6 points for eagle. We'll be using the Golf GameBook app to keep score do download that app to your phone if you can. The app makes scoring very easy, just enter your actual score and the app will apply your stroke(s) if applicable and determine your points for the hole. If you are a 14 handicap, you get a stroke on the 14 hardest (lowest handicap) holes. If you are stroking on a hole, and you get a bogie, just enter that bogie into Golf GameBook. It will apply your stroke and give you the 2 points for net par. Golf with the most points after 2 days will be our individual champion and take home the trophy. Golf GameBook also let's you keep up with how your score stacks up with golfers in the other foursomes throughout the round, and will display 2 day cumulative points during round 2.
On Sunday morning, we team up for a 2-min Shamble. Teams will be determined based on the results of the 1st 2 days (#1 and #12 will play together, #2 with #11, #3 with #10, etc). Both golfers on team tee of and then both play from the best tee shot. Then you play your own ball the rest of the way. 70% of handicap will be applied. So if your handicap is a 10, it will be adjusted to a 7 and you'll get a stroke on 7 hardest holes. The best score of the two golfers will be the only one that counts on the hole. Again, Golf GameBook will simplify this for us. Just enter the actual score of each golfer and GameBook does the rest. Winning 2-man Shamble team also takes home a trophy.
The RPMGT "Pace-of-Play" and "Score-Friendly" rules. You can roll your ball anywhere but the bunkers within a club length (also know as the Robin Gresham rule). Treat white stakes and lost ball with a lateral drop. Anything within the PUTTER is good. Do NOT give 4-footers, but 3-footers are good. Make sure it's within the putter length before picking it up.....otherwise, PUTT IT. But these rules help keep the pace of play moving and help the higher handicappers stay in holes (and we've got some HIGH handicappers!). RPMGT is all about having fun. That's how Robert Payne would want it.